Kwikyt SlideFusion is the premium productivity solution for Microsoft™ PowerPoint™ 2007, 2010, 2013 and 2016 (PC Versions). Kwikyt SlideFusion is available for business customers and will be tailored to individual needs. SlideFusion offers full control over the look and feel of presentations and provides content creators very efficient tools.
In addition to the basic version of Kwikyt SlideFusion, there are additional modules that can satisfy special demands on control and design – for example the SlideFusion Colors AddOn.
The basic functions include
More than 100 productivity enhancements for PowerPoint Power Users including …
Smart Align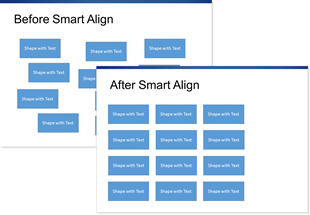 Select a shape or a group and choose "Smart Align". Your selection will be aligned with a selectable strategy: Align to grid, align to layout guides, stack from left or stack from right. All selected elements will be automatically moved and optionally resized.
Smart Repeat
Smart Repeat makes it easy to copy any selection multiple times horizontally or vertically. It automatically adjusts width/height of the selection, ensures proper margins and respects the layout guides. It just works and saves lots of time.
Smart Modify
Smart Modify allows you to modify the most commonly used attributes of shapes with oney keystroke or mouse click. You can adjust the fill state of selected Harvey Balls, change the sharpness of arrows, rotate a line or change the dimension of a rectangle and much more.
Full set of adjustable harvey-balls and donuts
Integrated wizards
Agenda
Profile
Gantt Chart
Timeline
SWOT Analysis
Growth-Share-Matrix
Technology Adoption Curve
Furthermore the following range of functions is offered…
Professional Color Management
SlideFusion colors adds professional color management features to Microsoft™ PowerPoint™ 2007 – 2016. Creation of corporate or client color palettes will be as easy an convenient as never before. While theme colors are limited to 12 editable colors and recent colors allows only access to the last 10 used colors, SlideFusion colors adds unlimited custom palettes with unlimited colors.
Get your palette directly from the active presentation (respects tables and charts), pick colors from any place on your screen(s), add them one by one as RGB, HSV, CMYK or web color or import them from a Microsoft Excel-Sheet. Precise color controls support mouse driven selection of colors.
Colors can be individually named and searched (SlideFusion library required). User palettes will be embedded as meta data into the presentation by default (this can be changed) without breaking file format compatibility, which makes sharing as easy as possible. Anyone who licensed and installed SlideFusion colors, has instant access to an embedded user palette.
SlideFusion library
Visual template and object repository with rights management and (optional) theme server for large organizations. Powerful search function and drag-and-drop support.
SlideFusion proof – Corporate Design Enforcement
Perfect style and look is a competitive advantage. Ensuring that your corporate design will not be diluted by your staff is a mission critical task which ensures that your corporate image is always first class.
Corporate Design Enforcement cannot be achieved by simply sharing properly created templates. It requires that every aspect from the types of shapes, colors, fonts, wordings up to animation timings, margins and paddings are properly set within the whole presentation.
Regardless whether the user creates the content with PowerPoint™ itself or uses copy and paste to insert content from external sources. Even untrained or new employees must be able to produce first class content.
Kwikyt productivity tools help you to enforce corporate design rules and to identify and fix problems within seconds on a single slide, a selection of slides or a whole presentation.
Kwikyt and SlideFusion are my registered trademarks.
Get in touch
Visit my LinkedIn profile and connect with me