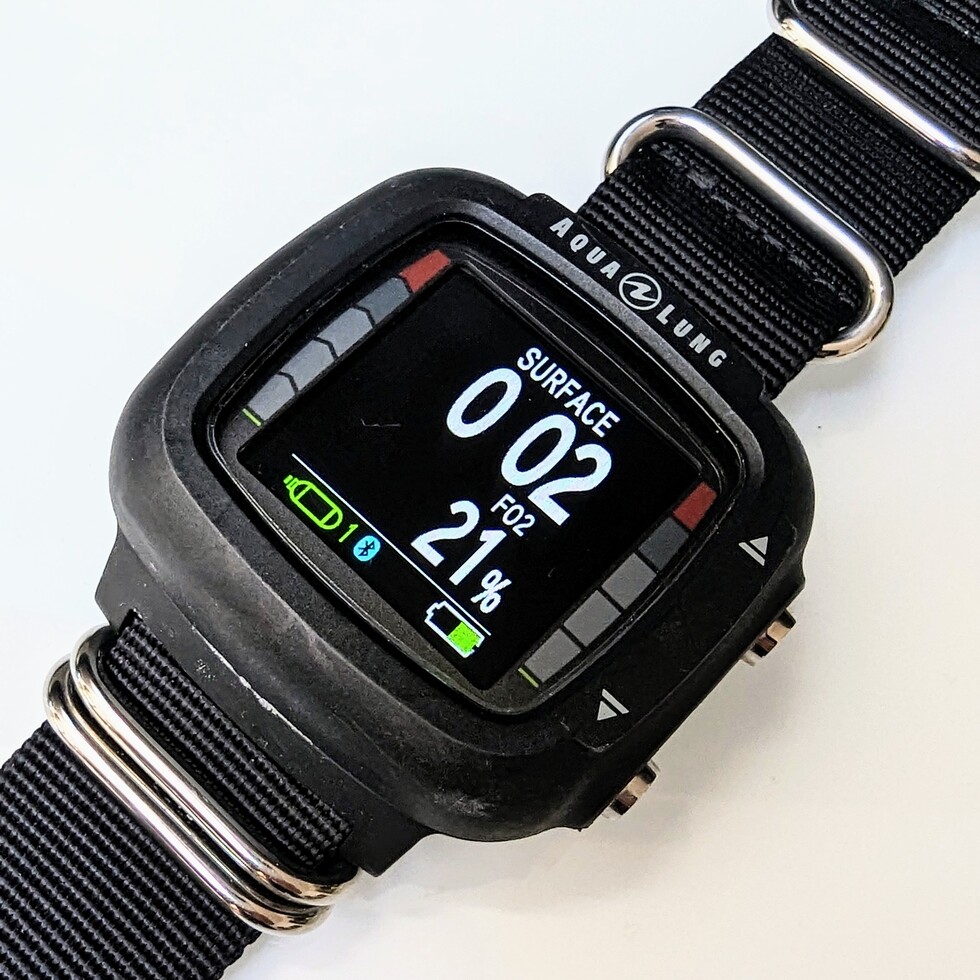 Whether you're a seasoned diver or just starting your underwater quest, a reliable dive computer is essential for a successful dive. In the crowded marketplace of dive computers, Aqualung's i330r stands out for its appealing price point and robust feature set. With nearly two years spent and over a dozen dives under my belt using this dive computer, this review will share insights from a diver's direct experience.
Small Display, Potentially Challenging Visibility
The i330r comes with a relatively small screen, displaying your essential dive information in color. Although the small size and colour display are advantageous in portraying data clearly, visibility can prove challenging. This becomes particularly noticeable while diving in sunny locales like the Tropics or the Mediterranean, where the display brightness may prove inadequate for sharp reading under intense sunlight.
Operational Ease
The two-button operation of the Aqualung i330r is minimalist, embodying a straightforward, no-frills design. However, this simplicity also poses tangible challenges. For instance, when diving in colder waters where gloves are necessary, operating the i330r may become a tedious endeavour.
Alarm Qualities
This dive computer only offers auditory alarms, lacking the vibratory alerts that some competitors like Shearwater or Ratio include. Vibratory alarms have the advantage of distinctness, promptly alerting the diver without disturbing others.
Inflexible Display and Lack of Air Integration
Unlike devices such as the Suunto EON, Ratio, or Scubapro, the i330r's display cannot be customized to the user's preferences. However, the i330r does score points for furnishing key dive information. Another notable downside of the i330r is the lack of air integration, which isn't even provided as a paid extra - a disappointing omission for many divers.
The Battery, Bungee Attachment, and Charging
Next are the battery and charging aspects. The i330r has a solid battery life that will cover numerous dives without requiring a constant charge. However, the battery is embedded within the device and therefore can't be replaced if necessary, which may pose challenges in the long run.
The USB charging cable of the i330r is non-standard, an annoyance when forgotten or misplaced, and the device requires extra accessories to secure the bungee mount.
Highlights: What it Does Well
Despite the aforementioned drawbacks, the i330r isn't without its merits. It features Bluetooth, facilitating expedient data transfers, and the long-lasting battery, as previously mentioned, is a boon. Also noteworthy is the weight—light enough not to become a burden while diving. The pre-assembled wristband is long enough to comfortably accommodate a drysuit. The i330r is also budget-friendly, making it an accessible option for divers of all levels.
Overall, the Aqualung i330r is packed with features and economical, albeit with some notable downsides. It represents a prove-able option for recreational dives in temperate, non-sunny settings where visibility won't be a handicap. For those possibly dealing with more extreme conditions, more adaptable and customizable alternatives should be considered.